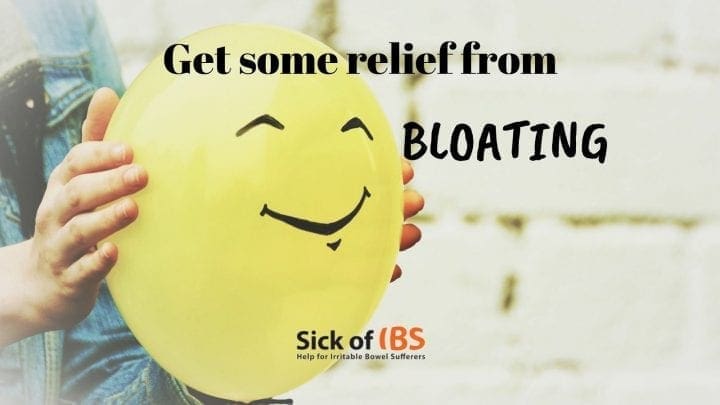 This is a very practical post about how to get some IBS bloating relief.
Bloating is such a common and painful IBS symptom that many of you are battling with on a regular basis. I suffered with major bloating every day, before learning how to beat IBS.
As you know, for me bloating is a symptom of something deeper than digestion.
And until you are willing to consider your deeper IBS triggers, it's unlikely that you will see real, long-term improvement.
However, in the meantime I wanted to share with you something I came across and that did give me hope – and some relief from bloating.
I hope it will for you too.
A powerful essential oil for IBS bloating relief
One day I found something I had never tried before – the essential oil of basil.
I was willing to try anything to get some relief from IBS bloating. Maybe you can relate?
And I came across essential oils.
Warning: If you are pregnant, taking medication and have other medical conditions, you should first consult your doctor.
WHAT YOU WILL NEED:
A carrier oil: Some kind of vegetable/plant oil – I used coconut oil because I use it for cooking. But you can use massage oil, olive oil, almond oil, sesame oil.
Essential oils can irritate the skin, so it's always a good precaution to use a carrier oil.
A good quality essential oil of basil (preferably organic). There are many different types, including exotic basil. And whichever type you get, it will be just as effective.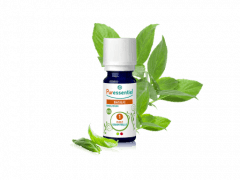 But do get a well-known brand, rather than a cheap import online. I personally used Puressential and Pranarom brands.
I bought mine in my local chemist here in France. You may find this in organic food or local health food shops where you live.
Wherever you get your essential oils from, do also check that they are compatible with any medication you are taking.
What to do to get IBS bloating relief
The good part of using essential oils is that you don't have to ingest and digest them for them to be effective.
Here's what you need to do:
1) Get in a comfortable sitting or lying position with your belly unclothed.
2) Put some carrier oil in the palm of your hand (and let it melt if necessary), and add 3 drops of essential oil of basil.
3) Gently and slowly apply this to your bloated belly it in a large circular motion around your navel several times.
4) There's no need to push or force anything. The basil will be absorbed through the skin and work it's magic. Try to relax as you massage yourself. You may find some gentle music will help you relax better.
When should I use this for relief from IBS bloating?
You can do this any time of day, but there are times that you know only too well when your belly does not want anything toughing it. So follow your body on that one.
I was really bloated by the evening, and I didn't want to smell of essential oils at work, so I tended to do this a couple of hours after eating, before going to bed.
Why basil?
There are many great essential oils out there, all with their own virtues.
I chose basil for IBS bloating relief because it is reputed as being a powerful antispasmodic.
On a digestive level it soothes the spasms causing bloating, as well as hiccups, gastric and enteric pains. It can also be beneficial in supporting depression and fatigue, and helps balance the nervous system (which our IBS triggers tend to stir up).
You can find more information here on the Puressential website.
You will notice that it acts specifically on the neuro-muscular spasms caused by your IBS triggers.
[Hint: It's even more effective to work directly with your triggers, so that they don't cause you so much bloating, food intolerance, etc.]
Something easy and inexpensive you could try this weekend if you need a little relief from IBS bloating.
8